Here's How to Make the Maid of Honor's Dress Stand Out
Here's How to Make the Maid of Honor's Dress Stand Out
Plus, expert tips on showcasing your MOH.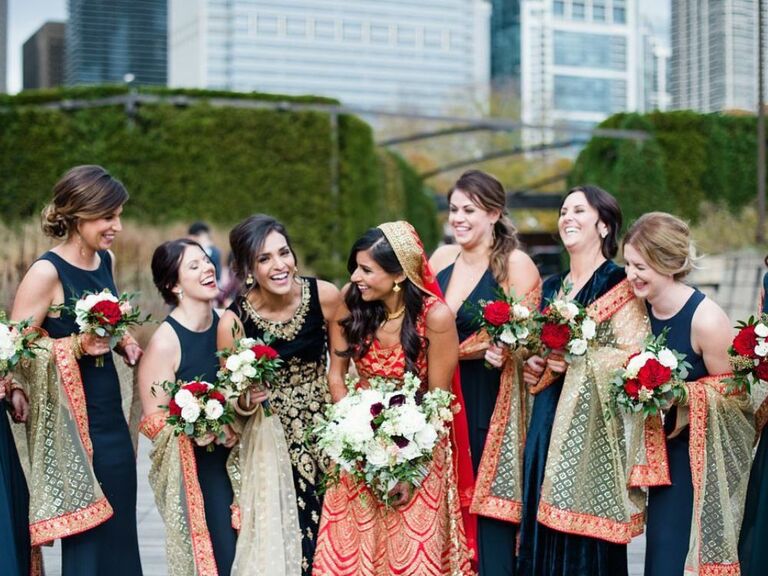 We have included third party products to help you navigate and enjoy life's biggest moments. Purchases made through links on this page may earn us a commission.
While your partner is the one you've chosen to spend the rest of your life with, your ride-or-die bestie probably played a key role in getting you to where you are today. From late-night phone calls when you first started dating to scheming with your partner about how to surprise you for a proposal, chances are you tapped a loved one you couldn't live without to be the maid of honor at your wedding. And while you know how much they mean to you, some wedding guests in attendance might not know that, or even know who you've chosen for the coveted role. That's why it's a great idea to find out how to make your maid of honor stand out. To help you do just that, we tapped wedding expert Nayri Kalayjian of Los Angeles-based Lovella Bridal and fashion stylist Gabrielle Hurwitz to offer expert advice on everything you need to know to dress your maid of honor with distinguished style.
Maid of Honor Attire FAQs
If you're wondering what you can and can't do when it comes to styling a MOH wedding outfit, keep these frequently asked questions about maid of honor attire in mind. Consider the questions and answers below your ultimate guide to acing your maid of honor's wedding-day fashion.
How can you differentiate the maid of honor's look?
"If you're looking to have your MOH stand out in your wedding party, one of my favorite and most popular ways is through their attire," says Hurwitz. "That could look like putting your MOH in a color or a print, or even a silhouette (like a jumpsuit, tuxedo, or matching set) different from the rest of the wedding party. Not only will this help them stand out, but it will also add visual interest to the overall look." Kalayjian adds that her, "favorite ways to make a MOH stand out is a different style of dress or color of attire from the bridesmaids or both. The MOH can have a different style and color to completely make her stand out from the bridesmaids as well."
Hurwitz goes on to encourage to-be-weds to not "be afraid to look outside the traditional 'wedding' brands for your MOH's look, especially if you want them in a different outfit. Ready-to-wear fashion brands and websites can be a treasure trove for special pieces that will make your MOH stand out."
Does the maid of honor wear a different dress?
"If you're not interested in having your MOH stand out through their outfit, consider other options that are a little more subtle, such as jewelry and accessories," says Hurwitz. In addition to jewelry, Kalayjian adds that another alternative is for the MOH to have "a larger bouquet from the bridesmaids—this is a lovely touch. They could also have different hair styling from the bridesmaids."
Can you use accessories to differentiate the MOH?
Absolutely! For more subtle differentiation, consider having your MOH wear a dress that matches the other bridesmaids and use jewelry, or even a special hairstyle, to set them apart.
"I've had a MOH wear the same dress as the rest of the bridesmaids and we've added a beaded belt to the dress or beaded straps to make her stand out (or even add a slit to her dress) to give her a little extra pop of style," says Kalayjian. "The sky is the limit—have fun with styling your bridal party and I suggest asking them what makes them feel beautiful so you can incorporate pieces of their own personality into their looks so they feel their best, confident and beautiful for your special day!"
How should the attendant of honor dress if they aren't a woman?
In the same way that you deserve to feel comfortable in your wedding dress, ultimately, your maid of honor, and all your wedding attendants, should wear attire they feel comfortable in. Whether you have a maid of honor or a man of honor, or simply a person you consider your "primary" wedding attendant, connect with them about what they'd feel best wearing. While the day is about you, they deserve to have a say in what they'll wear for the occasion.
12 Maid of Honor Dresses From Real Weddings
The options are nearly limitless for how you can dress your MOH to ensure they stand out. The options below will help you brainstorm the perfect way to highlight your MOH, whether that means you choose a distinct fabric like crepe or outfit them in a unique silhouette like a long-sleeve high-low dress with a scoop neck or even a one-shoulder bridesmaid dress with a high-slit.
1. Maid of Honor in Blush Halter-Neck Bridesmaid Dress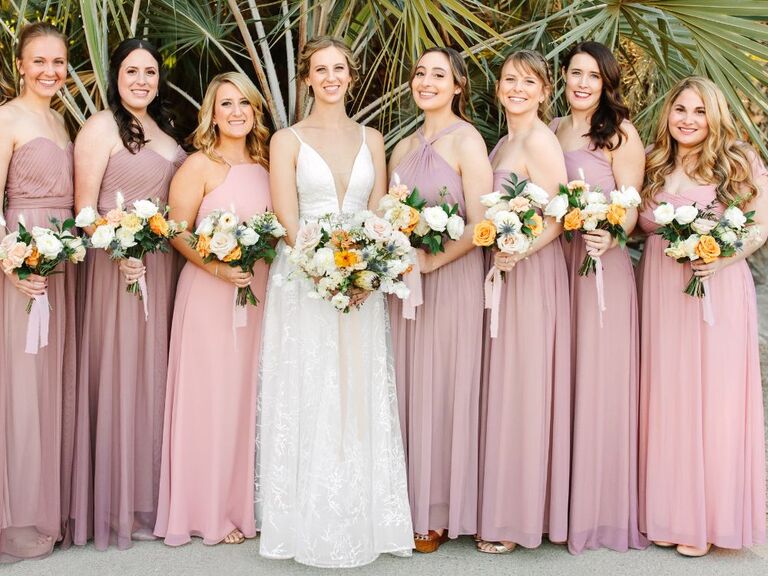 Differentiating your MOH's look can be subtle. This bride had her maid of honor wear a halter neck bridesmaid gown in a lighter shade while most of the rest of the wedding party rocked halter or strapless formal dresses in a slightly darker hue.
2. Floor-Length Red Maid of Honor Gown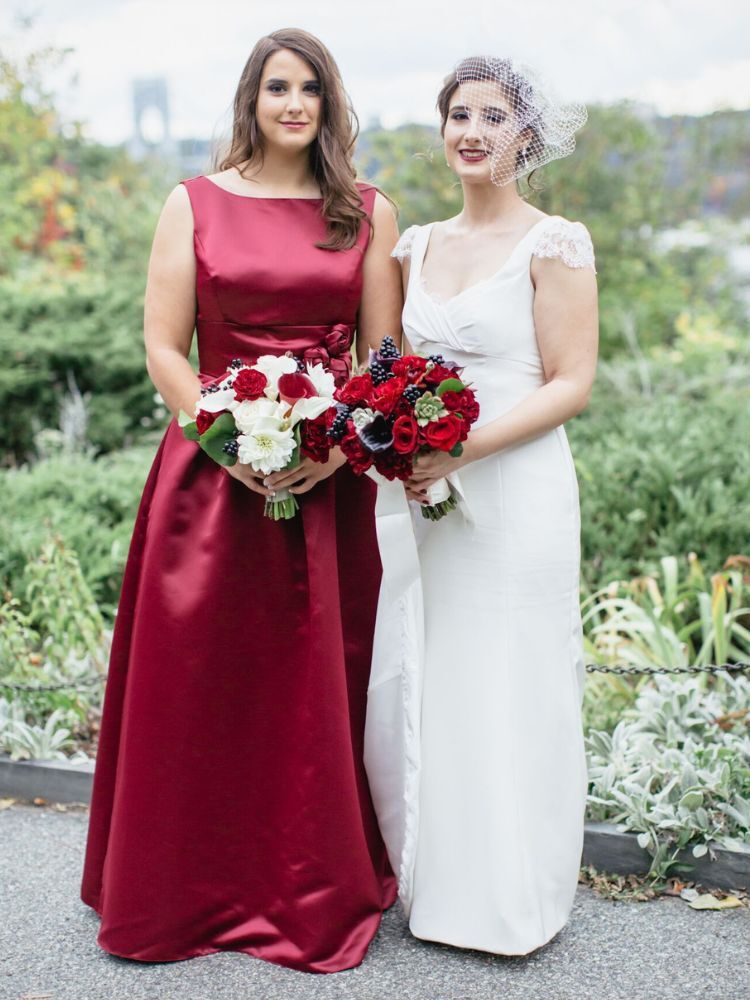 If you have just one bridesmaid or maid of honor, as this bride did, then they will inherently stand out. This, of course, gives you ample flexibility and freedom when it comes to how to make your maid of honor stand out—feel free to loop the MOH into the conversation to see how they'd like to dress.
3. Neutral Floor-Length Dress for Maid of Honor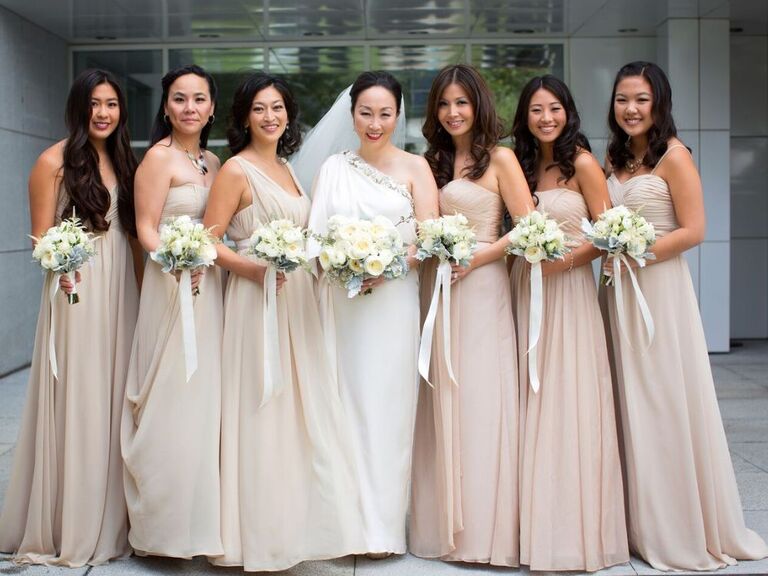 Simply switching up the neckline for the MOH is a simple, and subtle way to differentiate their look—for example, maybe the MOH is in a V-neck or cap sleeve dress while the others are in spaghetti straps or off-the-shoulder or sleeveless dresses. This bride subtly distinguished her maid of honor by dressing the attendant in a gown with straps, while the other bridesmaids wore strapless party dresses.
4. Floor-Length Fuchsia Maid of Honor Dress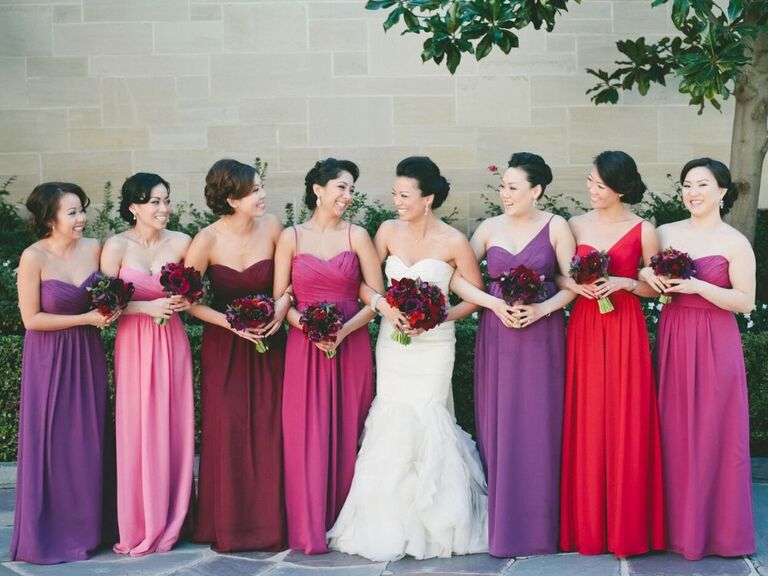 While the other bridesmaids donned purple or red dresses with either strapless or one-shoulder necklines, the maid of honor was in a different dress—a floor-length spaghetti strap fuchsia maid of honor gown.
5. Beaded Dress for Maid of Honor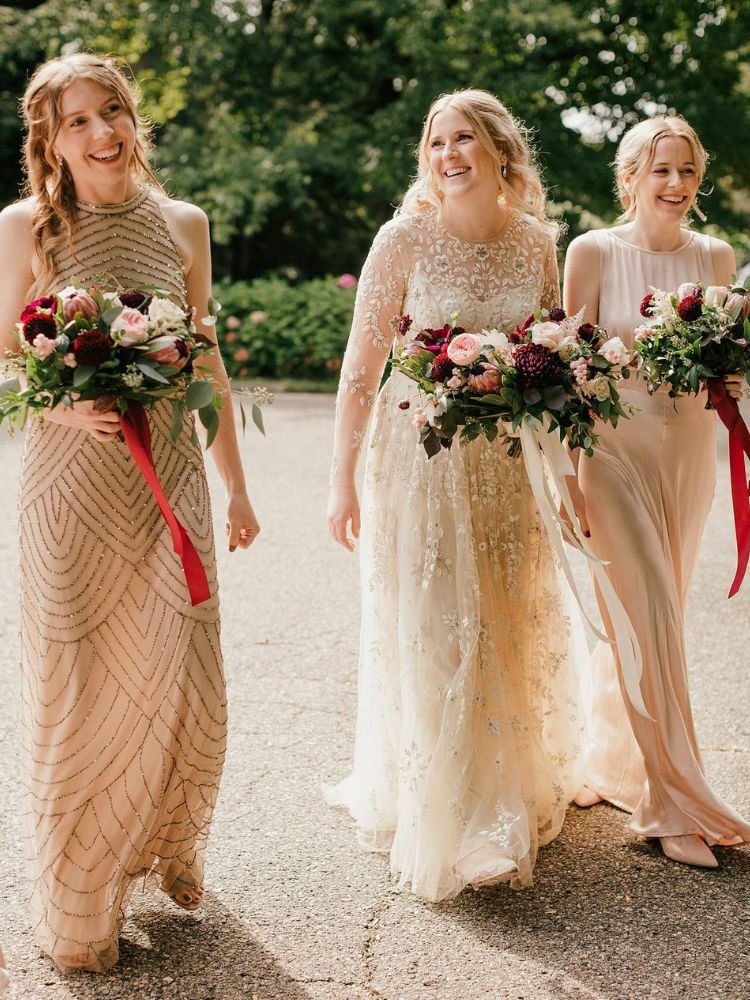 While most of the wedding party at this Michigan wedding rocked simple, neutral A-line bridesmaid dresses from BHLDN, the maid of honor stood out in a different look. She rocked a beaded maid of honor gown with a high neck for the big day.
Dress From Adrianna Papell
6. Green Velvet Maid of Honor Dress
Instead of differentiating your maid of honor on the basis of dress color on the wedding day, switching up the type of fabric they wear is a fun option. This bride outfitted her maid of honor in a green velvet dress while the other bridesmaids wore green satin dresses.
7. Dark Blue Maid of Honor Dress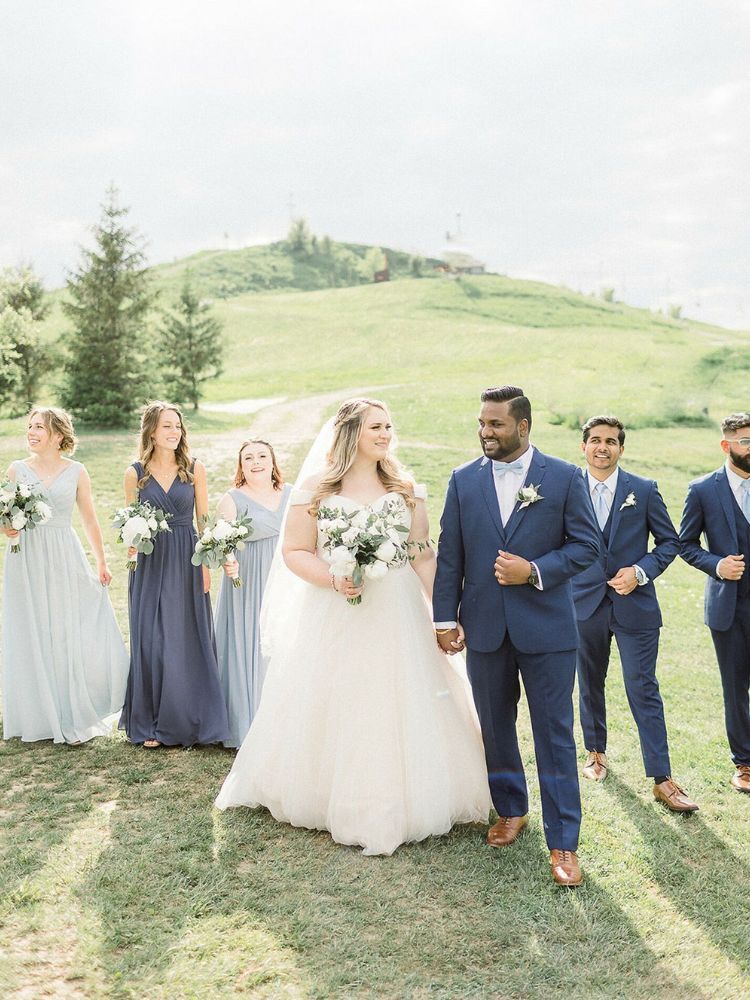 All the bridesmaids at the wedding wore the same style of A-line chiffon dress with subtle ruched details, except the maid of honor rocked a dark blue gown while the other attendants slipped into light blue outfits.
8. Gold Maid of Honor Dress and Pearl Drop Earrings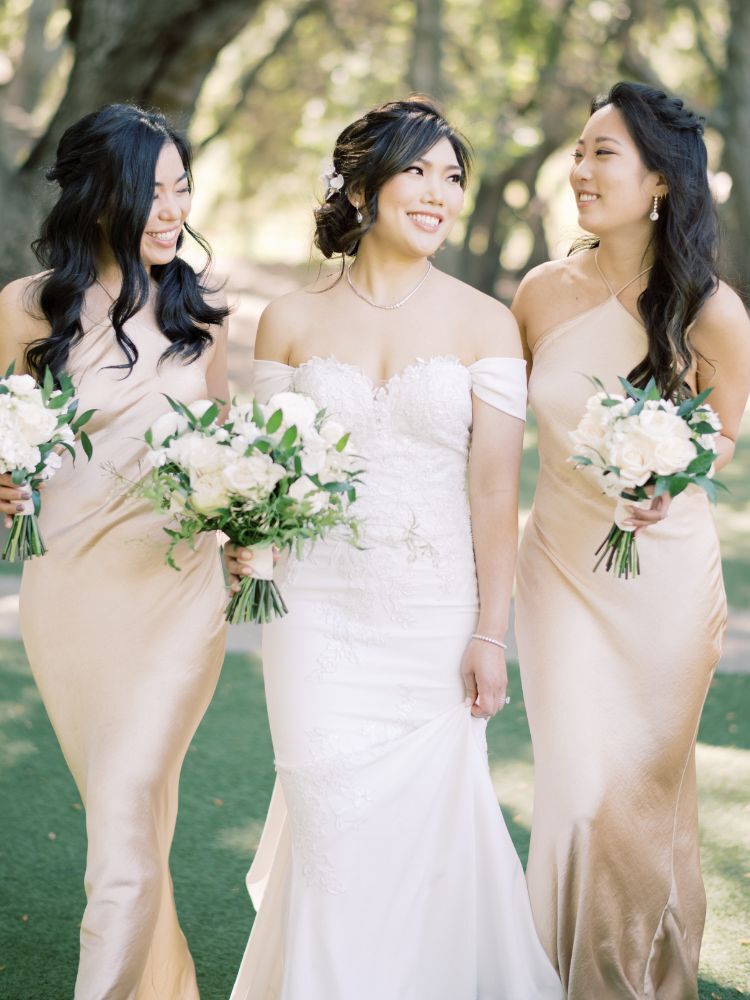 If there's a stunning best-seller bridesmaid dress that you want all your attendants to don, look to other areas to distinguish your MOH. Subtle changes, like differences in hairstyle or even different jewelry, are a nice way to distinguish your maid of honor from your other bridesmaids, but in an understated way.
Dress From One Fell Swoop
9. Maid of Honor and Bridesmaids in Custom Denim Jackets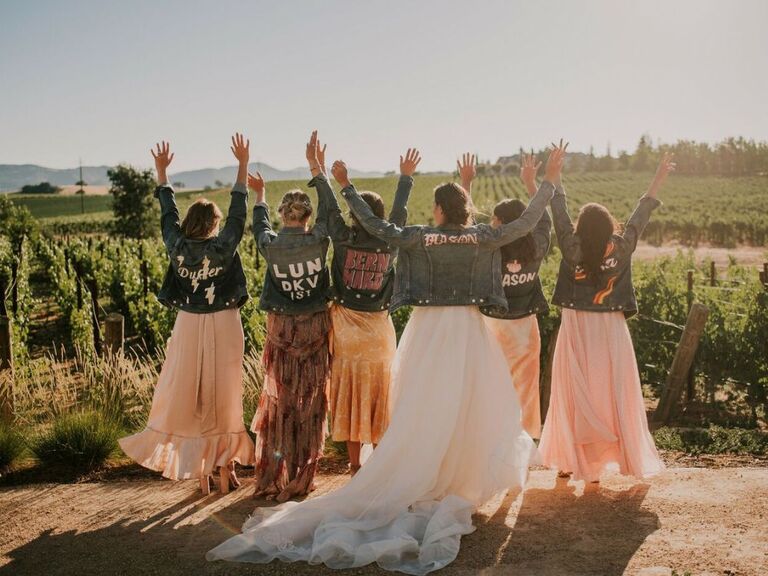 Different dresses aren't the only way to make your maid of honor stand out. Custom denim jackets with unique appliques or monograms are a fun way to distinguish each wedding party member.
10. Teal Maid of Honor Gown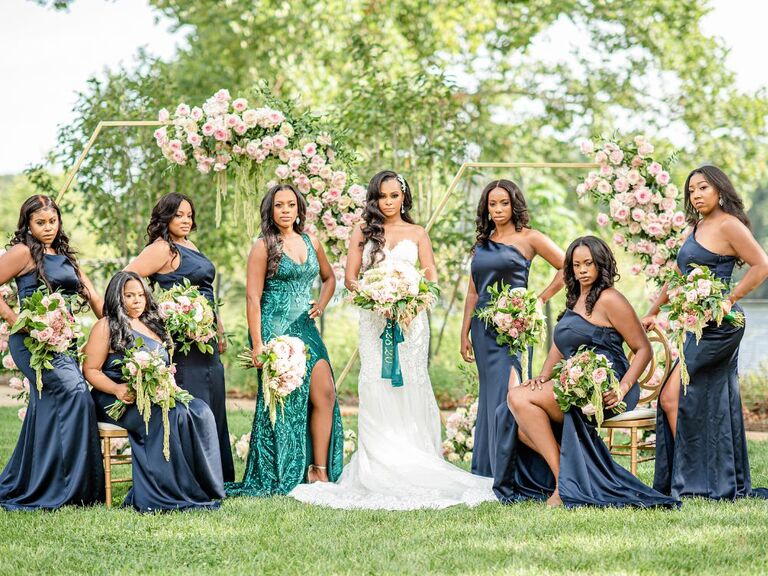 This bride shone a spotlight on her best gal by dressing the maid of honor in a teal maxi dress with sequins while the others donned blue numbers.
11. Embellished Maid of Honor Dresses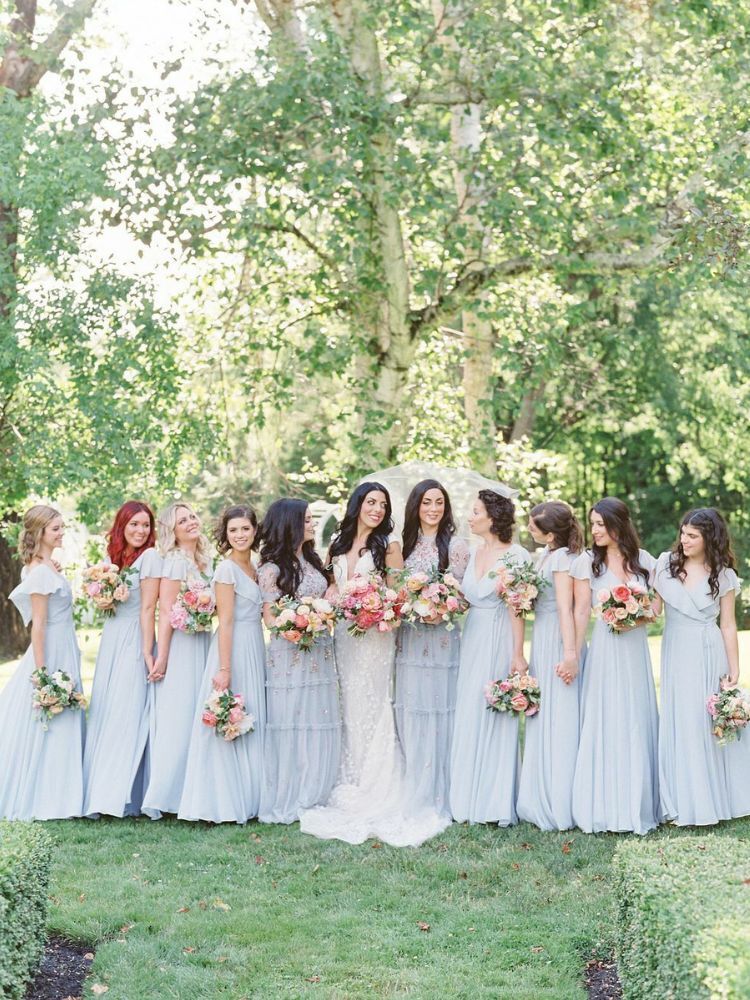 This bride had two maids of honor, but that didn't stop her from finding a way to make the MOHs stand out. She outfitted her bridesmaids in simple Jenny Yoo dresses with ruffle sleeves while the two maids of honor wore embellished tulle ball gowns from Needle and Thread.
Dresses From Needle and Thread
12. Gray Maid of Honor Dress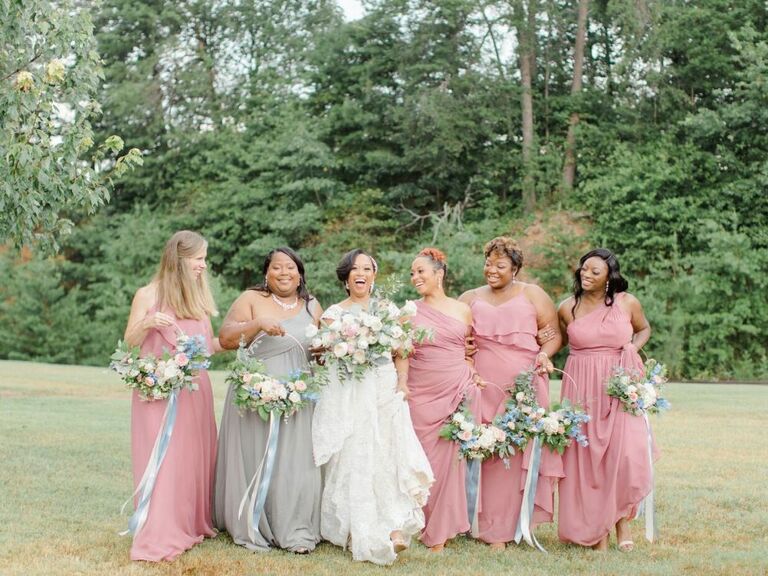 One reason that it can be fun to dress your maid of honor in a different color than your other attendants is because it allows you to highlight more hues from your wedding color palette. For example, the shades of this pink-and-gray wedding were on full display through the wedding party attire with the MOH in a gray gown and the other attendants in pink bridesmaid dresses.